Delivery Service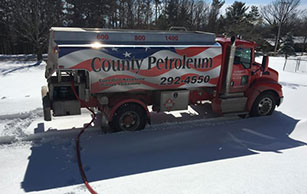 Weekend deliveries are available, often with no delivery fees. Please contact office for details and to schedule your delivery. There will be delivery fees for emergency after hour deliveries and during business hours when not in the area. Our minimum delivery to most areas is 150 gallons. We will also deliver 100 gallons for a slightly larger fee. Please contact our office for complete details. We recommend our automatic delivery service. It will be our responsibility to monitor your fuel consumption patterns based on degree days and help ensure that you will never run out of fuel. There is no extra fee for this service. Additionally, automatic delivery customers receive 24-hour emergency service, as well as discounts on repairs. Please contact our office for complete details.
New – Order Online & Pay Online.
Current customers can now use the customer portal to order fuel oil, kerosene and mixture. Please allow 2 business days for delivery (Monday – Friday). Emergency deliveries or special requests please contact office 292-4550.
Areas we service.
* indicates that some areas require a larger minimum delivery
Sullivan County
Barryville*
Bethel
Bloomingburg
Bradley
Burlingham
Callicoon
Callicoon Center
Claryville*
Cochecton
Cochecton Center
Eldred
Fallsburg
Ferndale
Forestburg
Fremont*
Fremont Center*
Glen Spey
Glen Wild
Grahamsville
Hankins*
Harris
Highland Lake*
Hortonville
Hurleyville
Jeffersonville
Kauneonga Lake
Kenoza Lake
Kiamesha Lake
Lew Beach
Liberty
Livingston Manor
Loch Sheldrake
Mamakating
Mongaup Valley
Monticello
Moutaindale
Narrowsburg*
Neversink
North Branch
Obernburg*
Parksville
Phillipsport
Rock Hill
Roscoe
Smallwood
Spring Glen
South Fallsburg
Summitville
Swan Lake
Thompsonville
White Lake
White Sulphur
Woodbourne
Woodridge
Wurtsboro
Westbrookville*
Youngsville
Yulan
Ulster County
Accord
Ellenville
Greenfield Park
Kerhonkson
Napanoch
Sundown
Ulster Heights
Wawarsing